Josh Freeman May Be Inactive
September 27th, 2013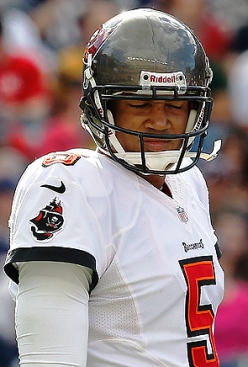 Bucs commander Greg Schiano is strict about who talks to the local fourth estate, and more importantly in Schiano's ways, what the Bucs say to the fourth estate.
So when shirtless Josh Freeman blew off the local pen and mic club yesterday, then ran to BSPN, without the knowledge of the Bucs, apparently, it really rubbed the Bucs the wrong way. So much so that Rick Stroud of the Tampa Bay Times said the Bucs are so peeved, Freeman may be the No. 3 quarterback and placed on the inactive list Sunday to pay for his sins.
Freeman was benched in favor of rookie Mike Glennon Wednesday but coach Greg Schiano said he would serve as the No. 2 quarterback. But that was before he broke his silence Thursday night in an exclusive interview with ESPN's Josina Anderson that was not authorized by the team.

The Bucs encouraged Freeman to be available to the media both Wednesday and Thursday, but he declined.

"Josh just needed his voice to be heard,'' agent Erik Burkhardt told the Times of the decision to make Freeman available to ESPN.
Needed to be heard??? What the hell were the 20 guys and girls standing around his locker there for yesterday, to sell him new aluminum siding on his house?
S(p)it, even the product of Seminole High, Jeff Darlington of NFL Network, was there with a massive camera crew. "Needed his voice to be heard" Joe's rear end!
If this wasn't checkbook journalism by BSPN — Joe wouldn't be surprised if that outfit would do anything to get an interview with their sordid track record — then Freeman was paying the four-letter back for them producing his pedophile Michael Jackson spread.
After all, this season has turned into a thriller for Bucs fans, sans victories.