"I Thought Those New York Days Was Over"
September 18th, 2013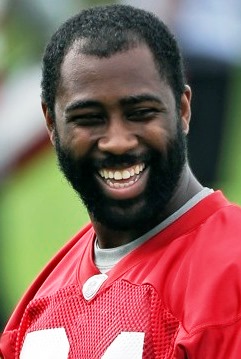 The elephants may be different, but Darrelle Revis recognizes the circus flying around the Bucs these days.
It's a media circus showcasing bogus rumors circulating across the country and from all angles.
"I thought those New York days was over," Revis said this afternoon at One Buc Palace.
Revis offered his approach to countering the noise, and refuted a FOX Sports report that Revis was unhappy with Greg Schiano and Revis' role in the defense.
"Zero truth to it. Why wouldn't I be happy here?" Revis said. "They gave me opportunity coming off my injury to play football again. I'm excited to be here."
"I think the best thing through these situations is to be honest," Revis said. "Be honest, and for us as a team to stick together. A win will change everything. A win will change this whole atmosphere."
On why he initiated a meeting with Schiano this week to address the rumor: "I just wanted to make sure me and coach was on the same page. You know, a lot of things in the paper to get out, rumors here and there. But I just wanted to make sure I wanted to talk to him personally and just say, 'Hey, just to let you know, I don't know if you believe [the rumors] or not.' Just make sure, you know, he saw me. During this time, it's a tough time for this team. We're 0-2, and we don't want distractions."