Brees: Dashon Goldson A Dirty Player
September 18th, 2013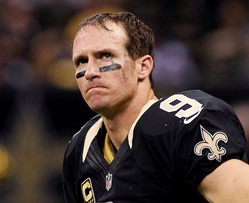 On the day Bucs safety Dashon Goldson dodged a suspension from the NFL, but was slapped with a six-figure fine, the news was met with elation from Bucs fans but grumbling from the New Orleans Saints.
Per Saints beat writer Larry Holder's Twitter feed, he of the New Orleans Times-Picayune, Drew Brees lashed out, claiming Goldson is a headhunter but wants to take the knees out of opposing players.
@LarryHolder: Drew Brees said its obvious Dashon Goldson has no regard for rules for guys going over the middle. … Brees said its obvious Goldson is going after players' heads.
Grow up, man.
Hell, Joe remembers as a high school kid being drilled on a daily basis to "go low" because that was the best way to bring guys down and considered good tackling technique.
It's also clear that Brees could not have played in the 1970s. Any receiver who went over the middle was more than likely met with a clothesline. That was good football!
Now Joe understands why the NFL is turning into seven-on-seven football. It's all about the Benjamins. Just because the NFL plays like a bunch of women when compared to the 1970s, that doesn't mean people like Brees need to act like women.