Clayborn: Fans Have Reason To Doubt
September 2nd, 2013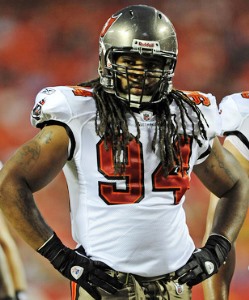 The Bucs' pass rush last year was pretty much dismal. Sure, it hurt that right defensive end Adrian Clayborn was lost early to an ugly knee injury.
In Joe's eyes, the Bucs, for the short-term, didn't do much to help their pass rush. They let sack leader Michael Bennett walk for little and all but handed his duties to highly-touted Da'Quan Bowers, who has all but taken his gift and thrown it away in the Bay.
Bucs fans are on edge about the pass rush, or lack thereof and Clayborn doesn't blame them, so he told Woody Cummings of the Tampa Tribune via Twitter.
@RCummingsTBO: Bucs DE Adrian Clayborn on doubters of Bucs pass rush. "We haven't rushed that good in the past year so they have good reason to (doubt)."
Clayborn is right. It's time to put up numbers, i.e. sacks. Why should Bucs fans feel comfortable about a non-existent pass rush when it appears on face value the defensive line has receded, not improved?
Sure, Akeem Spence appears to be a player on the rise. He has more skills than his predecessor, but as Bucs commander Greg Schiano said himself, he's a rookie prone to rookie mistakes.
Joe thinks it is very telling that all three of the Bucs' Day 3 defensive line draft picks made the final 53-man roster. That is almost unheard of and speaks to how thin if not weak the defensive line is, sans stud Gerald McCoy.