The Impact Of Adrian Clayborn
August 16th, 2013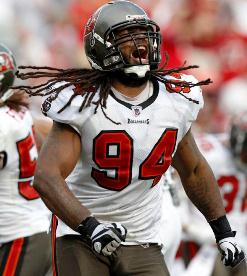 Much has been made of the Da'Quan Bowers Odyssey, where the Bucs (mistakenly?) have put a whole lot of trust in a whole lot of production. From Bucs commander Greg Schiano's own words, one can easily infer the move may have been premature.
Last year Clayborn went down with an ugly knee injury, but he's back and in incredible shape so Joe has been told. Clayborn for the first time in his life had football taken away from him, the story goes, and it fueled an even deeper passion to rip off an opposing quarterback's head.
Slowed by a groin injury early in training camp, Clayborn seems to have bounced back and Schiano couldn't be happier from the sounds of his words after yesterday's closed practice with the Patriots. Schiano about Clayborn playing tonight for the first time since his knee injury.
"That will be good," Schiano said. "AC [Adrian Clayborn] brings not only his play, but his tenacious attitude and his energy. It going to be fun to have him back out there on the field."
The Bucs need a pass rush worse than Joe needs Advil after a long Friday night pouring session at Hooters. We all know Gerald McCoy will be fine. Getting rushes from the edges is imperative.
If Bowers is not up to the task as the Bucs had hoped entering the season, then it is even more important for Clayborn to be healthy and active. Bucs fans should get a taste of how well Clayborn has recovered tonight.