Mike Glennon Is Not Ready
August 15th, 2013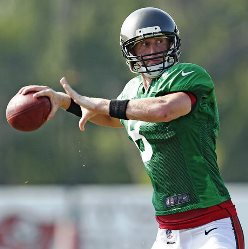 Joe knows in the wake of news that Bucs franchise quarterback Josh Freeman had one of his notorious Six Flags days yesterday and was roundly outplayed by a glorified third-string quarterback, the Mike Glennon Mob was happily wringing their hands in glee.
Joe is sorry to burst their bubbles, even those of the lunatic fringe, but Glennon will not sniff an NFL field this season in a meaningful game, short of Freeman going down from an injury. Even the crowd at ProFootballFocus.com, who get their calculators all in a bunch over Freeman, have noted that Glennon is not ready prime time, writes Rick Drummond.
Proper Motivation?

In our first look at Josh Freeman's designated motivator, rookie QB Mike Glennon (-2.6 passing) came off less than polished. To be expected for sure, but the giraffe-like passer didn't do much to avoid cementing early thoughts that had him pegged as a clumsy-footed, inaccurate slinger at this stage in his progression. A couple of big gains — escaping pressure to hit his wide-open tight end on a busted coverage to end the first quarter, and an underthrown deep ball to end the half – couldn't outweigh the handful of other off-target attempts he put on tape. After showing sophomore promise in 2010 and not much since, Freeman's desire to right the ship in time for his next contract — and not the rookie breathing down his neck — should still be the driving force behind hope for an improved 2013 campaign.
No matter how many times Joe types it, no matter how many times Glennon says it, the message is the same: the rookie from North Carolina State is simply not ready to play.
Yet the Mike Glennon Mob believes (hopes?) otherwise.