Stocker Returns In Pads, Speaks
August 5th, 2013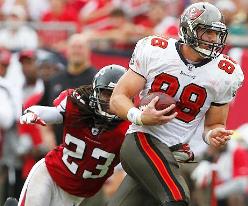 Projected starting tight end Luke Stocker and his bad calf were removed from the physically unable to perform list today and he took part in his first padded practice of 2013.
The Buccaneers, and Bucs fans, are exhaling. Stocker feels good and expects to be at full steam on Tuesday.
"Practice was good. They kind of eased me in a little bit. It felt good," Stocker said. "So tomorrow I should be wide open."
So what happened to your calf, Luke?
"It was just training up to leading in to training camp, a couple of days before we reported back, I was running some sprints and I just strained my calf. It was one of those things that came back and I couldn't quite get into the zone," Stocker said.
There's loads of competition in Bucs camp at tight end, but it's a unit that has generates far more questions than answers. The Bucs surely need Stocker healthy and performing well, like he did in the season finale in Atlanta — three catches for 50 yards and helping Doug Martin to a 142-yard day on the ground.
Yes, Joe realizes a faction of wacky fans will blame Greg Schiano's camp-opening conditioning test — 16 110-yard sprints — for Stocker's injury, but that's just stupid talk.