Listen To The Bucs
August 1st, 2013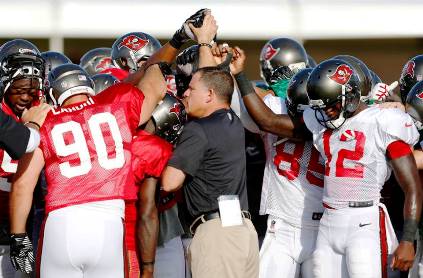 The Bucs finished Day 7 of training camp 2013 on a high note. First, quarterback Josh Freeman had his best day of training camp by far. That made three straight days where Freeman visibly improved over his first week of lousy accuracy.
Bucs coach Greg Schiano also announced that the groin injury that Adrian Clayborn suffered the previous day was not as bad as feared. Some players that took time to speak with reporters were offensive guard Davin Joseph, safety Dashon Goldson, linebacker Dekoda Watson, safety Mark Barron, running back Mike James, backup quarterback Mike Glennon and of course, Schiano's daily post-practice press conference.
All audio courtesy of Joe's good friends at WDAE-AM 620.