Darelle Revis Coming Along… Slowly
August 2nd, 2013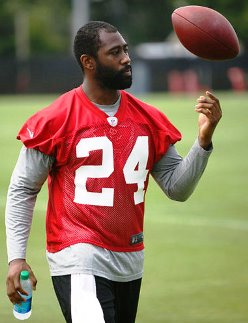 Yes, Bucs star cornerback Darrelle Revis was on the field, in pads no less, at Bucs training camp Thursday. But instead of pads, for the short while Joe watched him, he may as well have been in a Speedo.
Revis, when Joe monitored him, stood on the sidelines with fellow cornerbacks during position drills. Later, Joe learned via WDAE-AM 620 Bucs reporter Tom Krasniqi, that Revis was working against some wide receivers on a side field.
CB Darrelle Revis did the "passing tree" (defending against receivers) for the second straight day, according to Schiano. The Bucs are steadily increasing his workload but don't expect to see Revis much, if at all, during the preseason.
Schiano made it clear, again, in his post-practice press conference that the goal is for Revis to be ready Week 1 at the Jets, not necessarily Week 2 of preseason at the Patriots.
Last week Revis did very little when training camp started, other than to participate in walk-throughs. Steadily, gradually, Revis is adding more and more work.
At least in the case of Revis returning to the field, patience really is a virtue.