"Happy… Not Satisfied"
August 28th, 2013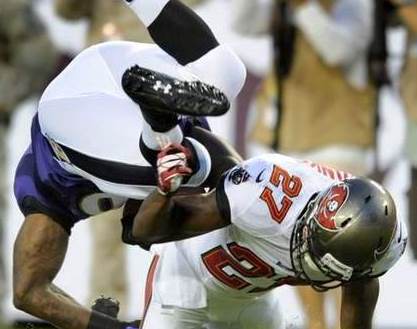 Barring something terribly unforeseen, it sure appears that Bucs rookie cornerback Johnthan Banks will play in the season opener at the New Jersey Swamplands and may even start.
The Mississippi State product has looked every bit the player that Bucs rock star general manager Mark Dominik wanted, if not expected, when he drafted Banks in the second round this spring.
Banks has even made splash plays, like the one-handed tip of a would-be touchdown pass last week in Miami.
But just because Banks has unofficially made the 53-man roster and could start in 11 days doesn't mean Banks is content, so he said today after practice.
"You know I'm happy, but I'm not satisfied," Banks said. "There's always room for improvement. I'm going to keep working and keep pushing and keep listening to the leaders on this team, and do what I can for this team to help them when a championship."
Banks went on to say while he is looking forward to playing in the season-opener against the Jets, he hasn't thought much about because he is locked in for the Redskins game Thursday, no knowing how much or if he might play.
That's the kind of attitude Joe likes and appreciates. Everything Joe has seen points toward Banks being a productive member of the Pewter Pirates.