Walter Football: Brace For Major Collapse
July 16th, 2013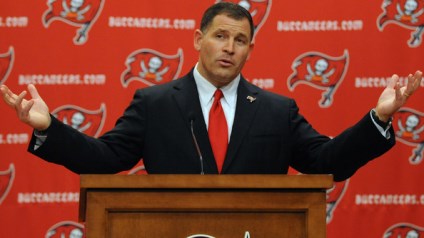 The Bucs have added Batman and Robin. They have added a young stud of a corner in Johnthan Banks. They have one of the better young linebackers in the NFL in Lavonte David, one of the best offensive lines, one of the top running backs in the NFL, and a dangerous if not lethal pair of wide receivers.
Yet the Walter Football crowd is anything but impressed. In a week-by-week full season prediction, WalterFootball.com claims the Bucs will have a Biblical collapse and finish the season 5-11; two games worse than last season despite all the upgrades.
Here are predictions by Walter Football, detailing one of the worst seasons in Bucs history (home team in caps):
Week 1:
JETS 16, Buccaneers 13
Week 2:
Saints 24, BUCCANEERS 23
Week 3:
PATRIOTS 38, Buccaneers 10
Week 4:
BUCCANEERS 13, Cardinals 10
Week 6:
BUCCANEERS 17, Eagles 13
Week 7:
FALCONS 24, Buccaneers 17
Week 8:
Panthers 31, BUCCANEERS 23
Week 9:
SEAHAWKS 30, Buccaneers 20
Week 10:
Dolphins 23, BUCCANEERS 20
Week 11:
BUCCANEERS 28, Falcons 27
Week 12:
LIONS 24, Buccaneers 21
Week 13:
Buccaneers 23, PANTHERS 17
Week 14:
BUCCANEERS 23, Bills 16
Week 15:
49ers 31, BUCCANEERS 13
Week 16:
RAMS 20, Buccaneers 13
Week 17:
SAINTS 36, Buccaneers 16
Now mind you, this prediction came after the Bucs made so many upgrades and the expected return of key starters who missed loads of games in 2012.
Joe believes that if there is a collapse of monumental proportions like this, then not only is Bucs rock star general manager Mark Dominik gone, so too likely would be Bucs coach Greg Schiano, in what Joe could only expect to be a major housecleaning at One Buc Palace.
Frankly, a 5-11 record would shock Joe.