"May Be Josh Freeman's Last Opportunity"
July 16th, 2013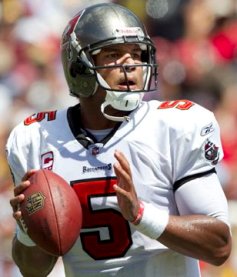 There is a lot at stake for the Bucs and Josh Freeman this year. If Freeman plays well and the Bucs make the playoffs, then Freeman, who is in the final year of his contract, could hit the mother-load and be wealthy beyond his boyhood dreams.
But Freeman's success, or lack thereof, would directly affect the Bucs for the next few years claims Amani Toomer, co-host of "The Opening Drive," heard exclusively on SiriusXM NFL Radio. In short, if the Bucs give Freeman a big contract after struggling this year, the Bucs will have to start shedding salaries on defense, Toomer explained this morning.
Toomer believes that could spell doom for the Bucs' foreseeable future and said he believes this season is Freeman's last shot to hit the NFL lottery.
"If you give [Freeman] $100 million dollar plus deal, they are going to have to start getting rid people on their defense. They want to know if they sign Josh Freeman, he will give them the type of bump that they need so they can start getting rid of these people on defense and it is not going to affect their team.

"It's one of those situations where you have to make sure. You can't miss on these guys. You can't miss on a quarterback and give him a big time contract or he will put your whole team in a pickle for a long time.

"If you give a quarterback $100 million or a big time deal, most of the time they are not going to get better. It is just human nature. You are going to level out. 'Well, they think I am good at this amount. This is what they expect of me. So I will just keep giving them that.' Now if put in incentives to grow – this may be Josh Freeman's last opportunity to really get pushed to the test, his last hurdle before he gets that big-time contract. [The Bucs] are looking at using every type of motivation they can to get him to that next level and I understand it. Once you get $100 million, there's not much a coach can tell you. 'You need to play better.' 'Oh, really? You just gave me $100 million. How much better do I have to play?'"
Joe finds it interesting that Toomer said if the Bucs sign Freeman to a new massive deal, then the Bucs will have to start peeling off salaries in the secondary. Joe wonders who exactly he was referring to? Eric Wright? Myron Lewis? Surely not Batman and Robin?
Toomer is pretty much spot on in that this season is not just a crossroads for Freeman's career and bank account, but so too is it for the Bucs franchise. If Freeman can't turn the corner, what does the team do?