Patience, Please
July 24th, 2013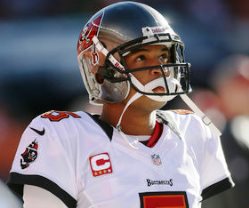 Bucs quarterback Josh Freeman was on an NFL quarterback rollercoaster last year. While at times he played exceptional football, there were times — too many times — where it seemed he completed nearly as many passes to the opposition as his own teammates.
Sadly for Freeman, the ghastly nine picks in the final three games is what is fresh in Bucs fans' memory banks. This is not the Josh Freeman to expect this season, Bucs quarterback coach John McNulty noted when he chatted with Joe today at One Buc Palace.
In fact, McNulty said Freeman's struggles last season were, in a way, somewhat expected.
"I think as much as anything there is decision-making that goes along with the system. This one puts a lot on the quarterback. It takes some time to get comfortable running that offense. It is similar to when I was in Jacksonville with Mark Brunell. It took a couple of years to get rolling with it. [Bucs offensive coordinator Mike Sullivan] "Sully will tell you it took a couple of years with Eli [Manning with the Giants] and he started to roll with it," McNulty said.

"It takes some time. He has been exposed to a lot of different systems. He has got a lot of knowledge about football but to apply it with all the different reads and everything, it takes some time. I thought that he was making great progress through [2012]. He has kind of continued through that vein through the spring and the past couple of days for the quarterback school. "
This is encouraging information to Joe. Yes, Sullivan worked with Tom Coughlin and Brunell in Jacksonville, and when Brunnell turned the corner, he was one of the better quarterbacks in the NFL and led the Jags to an AFC title game.
Eli Manning's reversal of fortunes will go down in history and may very well get him in the Pro Football Hall of Fame.
Now will Freeman lead the Bucs to an NFC title game or get two Super Bowl rings? Well, that's a monster leap right now. But it is very encouraging that Sullivan has experience turning around quarterbacks.