Carl Nicks' Toe "Heavily Bandaged"
July 24th, 2013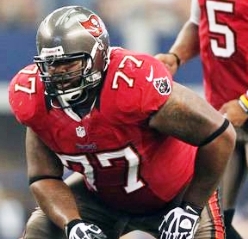 Talk to any Bucs representative — a suit, a coach, a player — and they absolutely crow about the chance the Bucs have for a roadgrader of an offensive line with the return of Pro Bowlers Carl Nicks and David Joseph, starting guards who were felled last year with injuries.
Nicks barely made it to midseason with a nasty turf toe that Joe himself saw in the Bucs locker room and it was indeed gross. Joseph suffered an ugly knee injury in preseason.
But Woody Cummings of The Tampa Tribune, with his own eyes, got a peek at The Toe as players reported to One Buc Palace in the small hours of the morning today. Cummings cast a shadow on just how healthy Nicks may be..
@RCummingsTBO: Bucs LG Carl Nicks showed up for camp this morning with his left toe still heavily bandaged. He missed most of 2012 with that toe injury.
Doesn't sound good, does it? The thing is, Joe has been doing his homework with trusted Bucs sources the past week or so and none of them suggested Nicks would not be ready to go for training camp.
Bucs coach Greg Schiano offered guarded words about Nicks, stating each player coming back from an injury will have a personally-crafted workout regime that may or may not include lining up for snaps starting tomorrow morning.
Schiano said that with veterans who have proven their mettle in NFL wars (Darrelle Revis, Joseph and Nicks), there is no need to throw them into the fire right away because their past merited a pass. The immediate No. 1 goal, Schiano said, is to ensure guys coming back from an injury are ready to take the field at the New Jersey Swamplands Week 1 against the Jets.
So let it be known, until further notice, this is the season of The Toe.