Losing Isn't Thriving
July 12th, 2013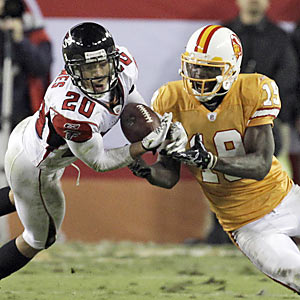 Before the era of statistical gibberish and fantasy fun that doesn't involve women, sports were all about winning and losing.
The "W" was the almighty. Being called a "winner" was the highest compliment. Call Joe old school, but winning is what Joe cares about most. It's the greatest intangible in any sport — in life, too. There are winners; there are losers. Any man who's ever set foot on a field of competitive sports knows some players just find a way to win consistently and/or play like a winner over and over again.
So Joe was intrigued by the recent headline on Buccaneers.com: "Welcome Back Orange: Freeman Has Thrived in Throwback Gear"
Freeman is 1-2 in throwback games.
"In all, Freeman has completed 57 of 111 passes for 806 yards, seven touchdowns and just two interceptions while wearing the Bucs' throwback uniforms.  The completion percentage is lower than his career average, thanks mostly to a 14-for-31 effort in his debut start, but his averages of 269 yards per game and 7.26 yards per throw are well above his career marks.  That coupled with the excellent 7-2 TD-INT ratio has helped Freeman compile a strong 88.6 passer rating in Throwback Games.  He's even run nine times for 61 yards in those three outings."
Joe understands the Bucs' marketing machine working to put a positive spin on how No. 5 plays in throwback-uniform games. But this was a bit much for Joe.
Losing is never "thriving." And Freeman's stats in those games aren't blow-your-mind great.
Joe only really likes what Freeman did in his first throwback game, his first career start. He led his team to victory against a strong Packers team. It was one of Freeman's six career wins against teams with a winning record.