Chasing Joe Greene And Jack Hamm
July 12th, 2013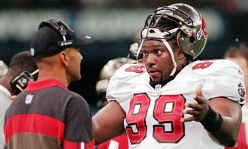 One of the biggest transformations in NFL history happened when Warren Sapp and Derrick Brooks had just finished their rookie seasons with the Bucs. Sam Wyche was fired and Malcolm Glazer brought in Father Dungy.
Father Dungy, as astute a defensive mind as there was in the game, knew all about the great Mean Joe Greene and Jack Hamm, perhaps the greatest defensive tackle and weakside linebacker, respectively. And Father Dungy was their teammate with the Steelers. So when he studied Bucs film after taking the job, he thought he had the second coming of both Greene and Hamm in Tampa with Sapp and Brooks.
Sapp, when talking to a gaggle of reporters this spring, recounted how he thought, initially, Father Dungy was off his rocker.
"He told us to chase them," Sapp said. "Me and Brooks walked out of the room and said, 'Is he crazy? That's a good challenge though, dude. This was 1996 when he first walked in the door. These are icons of the game! We are talking about Mean Joe Greene from Texas. Mr. Coca Cola. Are you kidding me? Come on, man. Brooks looks to me and says, 'We have our work cut out for us. Let's go to work.'

"It wasn't something we actually ran from. We actually embraced it. [Father Dungy] thought that much of us. He was the guru of everything we could possibly imagine. He was going to give us structure, defense, everything we needed. That's what you got when you talked to Derrick Thomas about this man. That's what you got from Neil Smith when you talked to him about this man. We wanted that, Lynch too."
Now, one could argue neither Sapp nor Brooks caught up to the level Greene and Hamm, but it was damned close. Both Sapp and Brooks will be in the same fraternity as Greene and Hamm, the Pro Football Hall of Fame.
As Vince Lombardi once said, "Gentlemen, we are going to relentlessly chase perfection, knowing full well we will not catch it, because nothing is perfect. But we are going to relentlessly chase it, because in the process we will catch excellence."
That's exactly what Sapp and Brooks did.