Jackson's Pitch To Revis
July 26th, 2013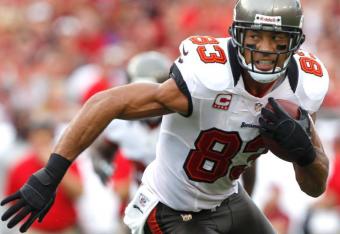 Olive oil-lapping, popcorn-munching, coffee-slurping, fried-chicken-eating, oatmeal-loving, circle-jerking, beer-chugging, cricket-watching, scone-loathing, college football-naïve, baseball box score-reading Peter King, of Sports Illustrated and NBC Sports fame, is leading a new football website and it's got a fresh feature on all things Vincent Jackson.
Columnist Jenny Vrentas got a top-10 list from Jackson, which includes, among other things, the sales pitch Jackson gave to Darrelle Revis before the big Bucs-Jets trade got him to Tampa Bay. And Jackson also shares his hoops dreams.
10. I think I might have been able to play pro basketball overseas, but I definitely wasn't headed to the NBA. At 6-5 and with my skills, I wouldn't stand out at that level. While playing basketball in college, I would guard power forwards 6-9 or taller. I enjoyed the challenge, and I believe hoops definitely helped my game as a receiver.
Well, Joe's sure glad Jackson didn't land with Maccabi Tel Aviv.
As for the pitch to Revis, Jackson said he shared how much "fun" life is under the New Schiano Order.
Interestingly, Revis, speaking to Warren Sapp yesterday, said the Bucs' tackling circuit drills are "a beast." After watching Revis at practice today, Joe can tell Revis is enjoying all the limited opportunities he gets to act like a beast. The man is simply foaming at the mouth to hit someone.