Adrian Clayborn On The Mend
January 18th, 2013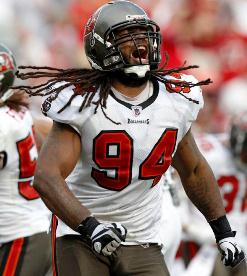 The Bucs' sack total from the defensive line this year was, again, miserable, and pretty much has been since Simeon Rice left the Bucs. That's five years the Bucs have searched for a pass rusher that makes quarterbacks buy Pampers?
Draft pick after draft pick and the Bucs still don't have a scary pass rush. The subpar 2012 season again cost the Bucs a defensive line coach for lack of sack production.
In 2010, Adrian Clayborn seemed showed talent and had splashes where he reminded Bucs fans of Rice, especially when he planted Matty Ice into the turf of the Stadium on Dale Mabry Highway.
The defense suffered a blow when Clayborn blew out a knee early this season. But it appears Clayborn has a clean bill of health to continue his rehab, so he Twittered this morning.
@AJaClay: Bout to see my doc…hopefully I get some good news and I can start running.

(An hour later… )

@AJaClay: Knee is good!
And that means the Bucs are good!
Hopefully, with a reinvigorated Clayborn, Pro Bowler Gerald McCoy and a return of Michael Bennett and a healthy Da'Quan Bowers, the Bucs will be able to make quarterbacks have untimely accidents on the field, which used to happen when Warren Sapp and Rice danced and pranced.