Bennett: "We Should Have Made The Play"
December 9th, 2012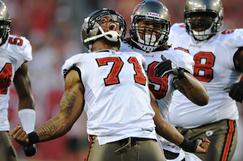 It was Eagles ball, fourth-and-five from the Bucs 23. Some 16 seconds left. It was do-or-die for the Eagles. The Bucs make a stop, and the win is theirs.
Instead, quarterback Nick Foles, a rookie third-round draft pick, looked far more the franchise quarterback than his counterpart for the Bucs. He stood tall in pressure and connected down the middle for a 22-yard gain to Jason Avant.
We all know what happened after that. Touchdown, ballgame, see ya, playoffs.
In Michael Bennett's eyes, that play should have never have been completed.
"That sprint out play, that is the play we practiced," Bennett said in a mausoleum-like Bucs locker room after the game. "We went over that play several times this weekend. We should have been ready for it. We had to make one more play. That is their No. 1 go-to play. And we had to have it.
"We studied that play. We should have made the play."