Too Much Sideline Study With Sullivan
October 8th, 2012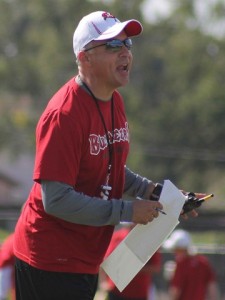 If there's a guy among the media that knows Mike Sullivan and his offense, it would be former Giants receiver Amani Toomer.
Sullivan was Toomer's position coach for five seasons (2004-2008) with New York. So Joe's all ears when Toomer weighs in on the Bucs offense like he did last week with Whitney Johnson of WHBO-AM.
Toomer believes Josh Freeman looks very uncomfortable and Toomer doesn't like the sideline interaction between Sullvan and No. 5.
"I just feel like [Freeman] doesn't seem like he's mastered it yet. You know, you can just look at his face, look at the body language and he just looks a little unsure of himself," Toomer said. "Things happen and he's going over to trying to talk to Sully. I know Sully is a guy who is very hands-on and he tries to explain to him. But there's some point in time where you gotta just play the game and coach it off of the tape in terms of 'Ok, Sully, I did that wrong and let's move on and seek something else.' Because there's too much going on to be learning during the game."
Toomer went on to say the bye week should be good for Freeman's development.
Joe, too, has noticed Freeman and Sullivan poring over still shots together during games and seemingly in deep coach-player instruction.
Joe can't call that a negative, like Toomer seems to be. But there is such a thing as overcoaching.