Knock Off The Geno Smith Talk
October 8th, 2012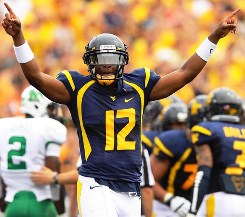 Regulars on this here corner of the interwebs know Joe is a footballholic. On Saturdays, Joe can be found vegging on his couch virtually all day, inhaling copious amounts of beers while soaking in college football from noon to midnight (and sometimes, beyond).
Joe has become enmamoured with West Virginia and its video game-like offense, engineered by wonderful senior quarterback Geno Smith.
This past Saturday, Joe started a bonfire of sorts on Twitter when Bucs fans, who apparently were watching West Virginia and Smith slice up the Texas defense, began Twittering Joe about the possibility of the Bucs drafting Smith next April in the NFL draft.
Simply put, if Josh Freeman is still on the Bucs roster next spring, there is zero chance the Bucs draft Smith, which from the responses Joe received on Twitter, did not sit well with Bucs fans.
Look, there just is no way the Bucs will Pearl Harbor Freeman by drafting Smith. It simply isn't going to happen. Plus, the Bucs are not going to be paying major cash to Freeman, a high first round draft pick, and have another high first round draft pick, Smith, sit on the bench behind him.
Besides, put yourself in the shoes of Bucs rock star general manager Mark Dominik. Does anyone with a sober mind actually expect Dominik to walk into the posh office of Team Glazer and try to explain to Team Glazer, "You know, all that cash you spent on Freeman, I guess it might be a waste. However, if you pull out your checkbook again, with maybe more cash, you could land Geno Smith."
Short of Dominik totally selling out Raheem Morris, there is zero chance Dominik is going to lobby for Smith. It just isn't going to happen.
Another element to think of: Does anyone — rationally thinking — really believe Greg Schiano will tank the rest of the Bucs games so the team has a shot of drafting Smith? Please.
For some reason, Bucs fans have to have a player to hate. First it was Barrett Ruud, then it was Gerald McCoy, now it seems to be Freeman.
Freeman's current contract ends after the 2013 season. And no, the Bucs have not given up on Freeman.
So please put the thoughts of Smith coming to the Bucs out of your mind. It isn't happening.