"Outprepare" Yourself
October 19th, 2012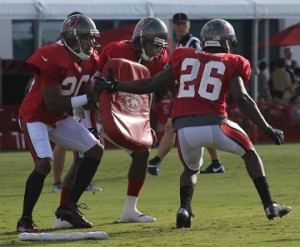 One big catch phrase of the New Schiano Order regularly instructs players to "outprepare" themselves.
Joe's heard the line before, but how pervasive "outprepare" is was really driven home this week when Joe heard Josh Freeman reference it during his radio show, as well as practice squad receiver Dale Moss saying it during a podcast for a South Dakota newspaper. (Yeah, Joe takes Bucs obsession to a ridiculous level.)
Joe likes the attitude.
As far as motivational language, the Raheem Morris regime focused more on how players should perform, versus how they should prepare. Yeah, it's just semantics, but they set the tone.