"Mac" In The Spotlight
October 19th, 2012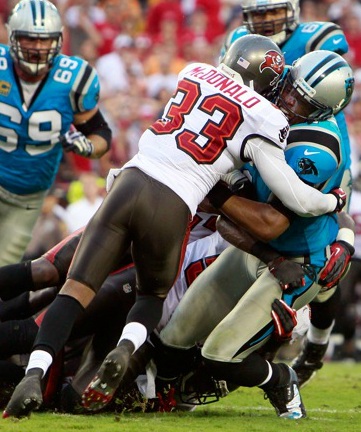 One guy rarely talked about in the Bucs secondary is veteran Brandon McDonald, Tampa Bay's nickel cornerback.
But he's been in that position since opening day, after joining the Bucs very late in the preseason, getting released with the final roster cuts, and then getting picked up again a few days later. (Here's an interview Joe did with McDonald weeks ago.)
"I'm impressed," Greg Schiano said of McDonald yesterday. "His work ethic, his attention to detail. This guy's a pro."
Joe brings up McDonald now because the high-flying Saints coming to town Sunday might just be the exact opposite style of the run-first, run-second Chiefs. McDonald will be front-and-center roaming the field trying to keep pace with all that Drew Brees has to offer.
Behind McDonald on the depth chart is Myron Lews and green rookie Leonard Johnson. That's pretty darn scary.
In no uncertain terms, McDonald needs a huge game Sunday.