Jeremy Trueblood's Days With Bucs Numbered
October 3rd, 2012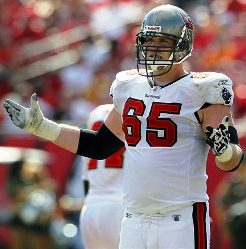 When Jeremy Trueblood got hurt, and then was benched in favor of Demar Dotson, Joe pretty much sensed Trueblood's countdown clock to end his Bucs days was ticking.
Now, the ticks are louder.
Last week against the Redskins, Trueblood was inactive. Bucs coach Greg Schiano said, in so many words, that Trueblood not being flexible in playing multiple positions on the front line was why he didn't dress for the game.
Trueblood, Stephen Holder of the Tampa Bay Times reports, can see the handwriting on the wall.
But after being replaced at right tackle two weeks ago by upstart Demar Dotson, Trueblood is starting to come to terms with the fact his predicament might be permanent. Asked whether he felt he could regain the starting role through strong practices, Trueblood wasn't so sure there's a chance.

"I feel like their decision's made," Trueblood said of the coaching staff. "So I'm just going to continue to do what I have to do. It's the NFL and people get hurt all the time. I don't wish anything upon anyone, but you just have to be ready. Someone could get sick. Anything can happen. Preparation is important."

The seventh-year player and former second-round draft pick has been in Tampa Bay for the duration of his career but could spend the rest of his current contract year on the bench. That would strongly suggest he could be looking elsewhere for work next season, another fact Trueblood said he is beginning to digest.
Trueblood's fate was pretty much sealed when Bucs rock star general manager Mark Dominik all but gave Trueblood an ultimatum in preseason: restructure your contract or you will be walking the streets looking for work.
And while Trueblood is under a guaranteed contract through the end of this season, if he is inactive, that means Schiano believes he is on the bottom rung of the roster, therefore, it would not surprise Joe the way Dominik and Schiano play musical chairs with the roster each week, that Trueblood may be jettisoned to make room for some other free agent to be signed later.
Joe's not saying it will happen, just that it wouldn't surprise Joe.