Bucs Trim D-Line Depth, Add Tight End
October 2nd, 2012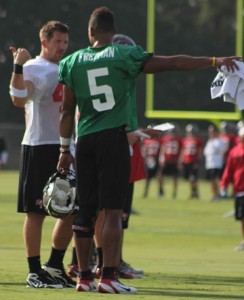 The Bucs cranked out rather interesting roster moves this afternoon. Joe's usually not into the ongoing bottom-of-the-roster shuffle, but this one is intriguing.
The Bucs cut veteran defensive end Jeff Charleston, who spent several seasons with the Saints and was signed last week. Rockstar general manager Mark Dominik said Sunday on the Bucs' radio broadcast that Charleston was a high-effort guy, strong against the run and good on special teams, and a man of good character.
But now Charleston is walking the streets, despite Greg Schaino just today referencing questionable along the Bucs' D-line.
Replacing Charleston is tight end Nate Byham, known for his blocking. He was drafted by San Francisco and spent the last two seasons with the Niners.
Now the Bucs are not using their tight ends much in the passing game (11 catches over four games), and they're not getting great blocking from the position. Former Bucs tight end even talked about that blocking performance during a recent interview on WDAE-AM 620.
The other tight end, Danny Noble, was not much of a blocker in college, while Byham was.
Joe knows that the New Schiano Order wants to pound the rock relentlessly and effectively. And Joe sees this move as the Bucs looking for an edge in that area.
If they're not going to rarely use the tight ends as weapons, then the Bucs might as well get some better blocking out of the position and look more to their versatile receivers.