GMC Not Expecting To See Change In Blocking
October 30th, 2012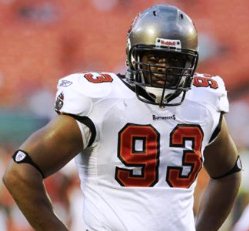 Recently, Joe asked Bucs defensive tackle Gerald McCoy if he had noticed a change in opponents' blocking schemes against him now that end Adrian Clayborn was out for the season. GMC said he had, that he was seeing much more double-teams.
GMC wasn't using this as an excuse. He said it was his job to fight through double-teams.
Now that Da'Quan Bowers has been activated after missing the first six games with an Achilles injury, Joe wondered if Bowers logging playing time last week against Minnesota caused a let-up in pressure on GMC.
No, GMC said, he did not see a change and isn't expecting a change to occur in the near future.
"I don't think [opponents] would change initially because it was [Bowers'] first game back and so they didn't know what he could do, they were just getting the feel of it. So I don't think the blocking schemes changed that much.

"I still had a lot [of blockers] slide to me, but I think they will [change] though when [Bowers] gets in his groove. Now they will be like, 'Well, now what?' Honestly, your best bet [as an offensive line coach] if you don't have an inside threat, you want to slide [blockers] to your DeMarcus Wares, your Jared Allens. Your best bet is to [protect the] inside because that is the shortest route to the quarterback. Regardless of if Mike Bennett is playing well or Bowers comes in, I will still expect [double-teams]."
Joe can understand where GMC is coming from. It's one thing to worry about Bennett, who is playing lights out. But when there are two ends as serious threats, such as Clayborn and Bowers, then teams will have to account for both Bennett and Bowers.
When Bowers gets up to speed, it will thin out opponents' offensive lines which means GMC and others could go wild.