Carl Nicks On Injured Reserve
October 30th, 2012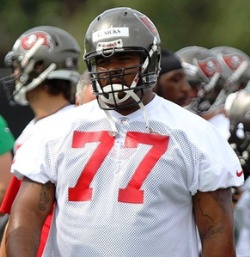 The biggest blow to the Bucs playoff chances just happened today with word from Woody Cummings of the Tampa Tribune that All-Pro left guard Carl Nicks was placed on injured reserve with a toe injury.
@RCummingsTrib: Bucs LG Carl Nicks lost for the season to a toe injury. He's been dealing with that injury all year long.
There simply isn't a bigger hit to the Bucs than this. The Bucs' offensive line is now officially a shambles. Nicks joins fellow All-Pro right guard Davin Joseph, who's on injured reserve.
Just when the Bucs started to get a running game going with Doug Martin bursting onto the scene, now he will be dodging for his life more than exposing creases and holes in the offensive line.
Joe's seen that toe numerous times. Frankly, Joe's not sure how Nicks was playing on it to begin with.
Joe's not sure how the Bucs recover without the human armoire on the roster. Ted Larsen at left guard?
This is a crushing blow. No way to sugarcoat it.