Report: Adrian Clayborn Knee Injury Is Serious
September 23rd, 2012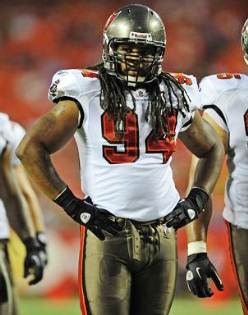 Adrian Clayborn getting carted off the field late in the second half in Dallas was a sad sight today, but now it seems that the injury is indeed serious.
Tampa Bay Times beat writer Stephen Holder says there's a grim look to Clayborn's injury in the Bucs locker room and Clayborn's teammates believe he might be done for the season.
An emotional Adrian Clayborn left the locker room here at Cowboys Stadium wearing a brace from the thigh to ankle on his right leg, and early indications are that his injury is quite serious, with several players suggesting it is season-ending.
This is a brutal blow to the Bucs' thin defensive line.
Daniel Te'o-Nesheim replaced Clayborn, and another backup, George Johnson, was inactive for today's game.
This will be a problematic issue for the Bucs, if Clayborn is indeed lost for the season. You don't just pick up a high-motor, solid end off the street. Though it might be time to dial up Andre Carter.