Here's How Bad Of A Day Josh Freeman Had
September 23rd, 2012
Joe's trying to remember a worse day for Josh Freeman, and he can't, short of the last game of the horrible 2011 season.
Freeman couldn't find open receivers, couldn't get rid of the ball, threw too often to receivers who were defended, rarely stretched the field.
When there were open receivers, Freeman couldn't quite get the ball to the receivers, and in some cases, that's being polite.
In a play-by-play summary on NFL.com, even professionals in the press box seemed to guess who was covering some Bucs receivers they were so wide open.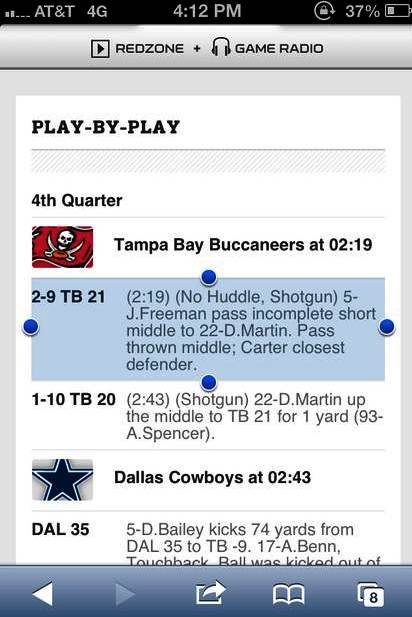 As Joe stated earlier, Bucs offensive coordinator Mike Sullivan did Freeman no favors today. Here is a guy gifted with wheels. Did SUllivan call for a play for Freeman to roll out, dodge the heat from the Cowboys' pass pressure and perhaps make a play with his feet? No!
Oh, Mr. Sullivan, you seem like a swell guy, but running Doug Martin up the middle each and every first down is beginning to become tiresome. Just a hunch, but NFL defenses can figure out this pattern too.
Hat tip to Twitter follower @BennyCL for the graphic.