Rookies May Get Leg Up On Some Vets
July 24th, 2012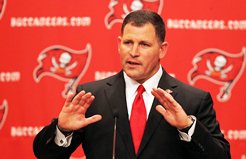 Yes, there is a New Schiano Order in town. That could likely mean bad things for many Bucs vets who were part of a tailspining team the previous season.
Read between the lines if you wish, but Joe thought it was interesting to hear from new Bucs coach Greg Schiano that because of the week-long head start the rookies have had in training camp, he expects the rookies to be up to speed on his new system and perhaps be a step ahead when the veterans take the field at One Buc Palace Friday.
"I just think another opportunity to expose them. Every time you are able to install something and go out —- even if you are not doing it full group —- but walk through it, jog through it whatever it is techniques. It will probably even prove to be even more important going forward a year from now when the rest of the organization has done it for a year. Now this is really a chance for those rookies to get caught up. You wish you could do it with the whole team."
If players didn't know Schiano is a no-nonsense guy before, they will surely grasp this concept very shortly.
Schiano is not a man who wastes a minute. For him and his staff to be putting in all this extra work for the rookies, he will expect the rookies to absorb everything the past week and be as nuanced with the new gameplans as a veteran would be.