Donald Penn And The Rubber Shirt
July 24th, 2012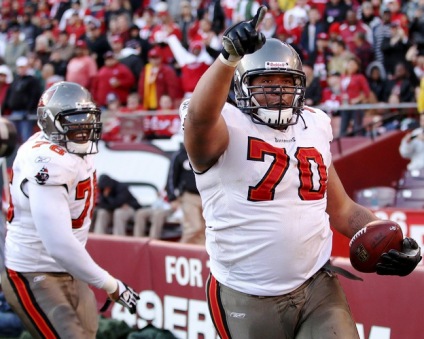 Tampa Bay Times Bucs beat writer Rick Stroud says Donald Penn doesn't play well when he's too fat.
Per Stroud, "not coincidentally" Penn had a bad December last year because he wasn't required to weigh-in for team officials during that month.
How Stroud is sure that scale anxiety and fear of a small fine is enough to screw Penn up on Sundays is a mystery. Perhaps Stroud has a medical degree?
Here's what Stroud penned the other day:
Once the games start, [Penn] has to be no more than 330 pounds to receive his money.

Coaches say he ballooned to 360 pounds at times last season, his sixth in the league. Mindful of an upcoming weigh-in, he would wear a rubber shirt under his jersey during practice. Some claimed the routine made him irritable and dehydrated and likely affected his performance on Sunday.

It's unclear if or how many times he failed to reach his weight limit. By agreement, he doesn't have to step on a scale the final month of the season. Not coincidentally, that's when he played his worst football in 2011.

Against Jacksonville Dec. 11, he allowed a first-half sack to Jaguars defensive end Jeremy Mincey that resulted in a Josh Freeman fumble, which was recovered for a touchdown in a 41-14 loss. Freeman was harassed all day, sacked three times, and threw two interceptions as the Bucs turned the ball over seven times.
Sorry, but this all doesn't make sense to Joe. If Penn has to weigh in at 330 to avoid a fine, then what the hell good is a rubber shirt going to do for him if he weighs 360? 
And if we're to believe Penn was cranky and dehydrated during, say, a Wednesday padded practice with his rubber shirt on, was that somehow going to affect him all the way to Sunday? That's ridiculous.
Penn has made 76 consecutive starts. He's durable. He's done great things on the field. He's fat. So what.
Joe really doesn't buy that Penn's weight is an issue in his performance. Though it might hurt his durability long term if he can't get it under control.