The Bucs Get A "B"
May 2nd, 2012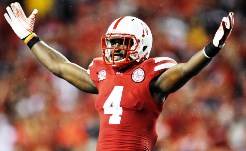 There are many accolades coming from all circles on the work of Bucs rock star general manager Mark Dominik during last weekend's NFL draft.
Count ornery Pete Prisco among the fans of the Bucs' draft. The CBSSports.com NFL columnist put fingers to keyboard and banged out a grade of every team in the NFL on their picks and he gave the Bucs a "B."
Tampa Bay Buccaneers
Best pick: They landed a future Pro Bowl player in second-round linebacker Lavonte David. They have their next Derrick Brooks.

Questionable move: Trading out of their spot in the first round to pass on Morris Claiborne and take safety Mark Barron. Corner is a much more valuable position than safety.

Third-day gem: Linebacker Najee Goode is a run-thumper from West Virginia who is worth a look in the fifth round. He plays the run well. Has played inside and outside.

Analysis: The Bucs landed three starters with their first three picks in Barron, running back Doug Martin (who I really like) and David. That's a nice bounty. I don't know if Barron is quite the player some think he will be, but Tampa Bay had a big-time need there.

Grade: B
Prisco of late has been a fan of Dominik's dabbling in the draft. Just two years ago, Prisco wrote how Dominik "owned" the draft and was impressed specifically citing Dominik's prowess in landing Gerald McCoy, Brian Price, Myron Lewis, Mike Williams and Dekoda Watson.