Foster Inside, Kuechly Outside
May 14th, 2012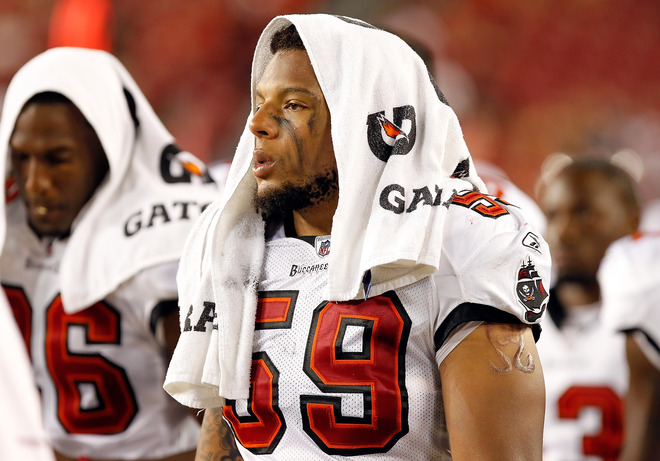 One of the little-discussed byproducts of the Buccaneers' draft was Mason Foster clearly being gifted the starting middle linebacker gig for 2012.
Lavonte David is too small to play middle linebacker, and rookie Najee Goode, a fifth-round pick, is here more to challenge Quincy Black and Dakoda Watson than Foster. So Foster, who led NFL rookies in tackles last season, is coming into his second consecutive season as the Bucs' main man in the middle.
But it's still a huge responsibility for Foster, who just turned 23. The Bucs are rolling out a brand new defense, and Foster has said he was too hesitant last year. Also, while Joe believes Raheem Morris' defensive assessments carry little weight, Raheem often talked about cutting back the defensive playbook to let guys like Foster to play faster.
Interestingly, reports out of Carolina have the Panthers keeping Luke Kuechly at outside linebacker.
Sure, the Panthers have Jon Beason, but he's coming back from an Achillies tear in September. Kuechly was a top pick, considered the best linebacker prospect in years and a surefire star-in-waiting at middle linebacker, yet the Panthers seem disinterested in having a rookie MLB despite Beason being a 2010 Pro Bowler at outside linebacker.
Joe's no Panthers insider, but it's telling that they won't give Kuechly the keys to the MLB job.
There's no reason to believe Foster can't develop and thrive, but in Joe's mind he's got an uphill battle in 2012.