Your 2012 Bucs Coaching Staff
March 6th, 2012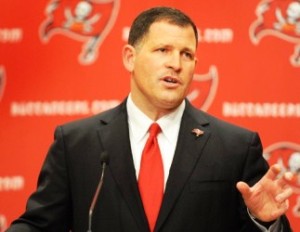 Bucs fans can finally quit their hand-wringing (remember the dark days when it appeared Mike Sherman might be the Bucs coach!?), put away their bottle of Absolute and take a deep breath.
The team finally has its full coaching staff set.
Below, courtesy of the Bucs media relations staff, is the entire staff led by new Bucs coach Greg Schiano.
Head coach
Greg Schiano.
Offensive staff
Mike Sullivan, Coordinator
Brian Angelichio, Tight Ends
Bob Bostad, Offensive Line
Earnest Byner, Running Backs
P.J. Fleck, Wide Receivers
Steve Loney, Assistant Offensive Line
Ben McDaniels, Offensive Assistant
Ron Turner, Quarterbacks
Defensive staff
Bill Sheridan, Coordinator
Ron Cooper, Defensive Backs
Bryan Cox, Front Seven
Bob Fraser, Linebackers
Jeff Hafley, Assistant Defensive Backs
Tem Lukabu, Defensive Quality Control
Randy Melvin, Defensive Line
And now, the Bucs and Schiano's staff can concentrate on what Bucs players should retain their positions, what players should be jettisoned, what players should be allowed to walk away, and what players to sign from the free agent list.
Oh, and Joe hopes the staff can start worrying about the upcoming draft as well.