Selling 10-6
March 6th, 2012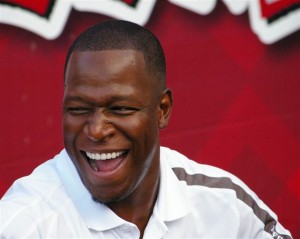 Assuming the Bucs pursue an elite tier free agent with multiple suitors, such as No. 1 wideout Vincent Jackson, Joe knows the Bucs' brass will have to sell the Tampa Bay franchise in a huge way.
Yes, Joe's not naive to think money doesn't speak loudest. But the elite free agents likely will have plenty of fat offers and want to see more than cash. Luring these guys is a wacky, frenetic process. Hell, Albert Haynesworth didn't come here in 2009 because he didn't want to do too much boating. That brings Joe to how the Bucs will be sold to a prospective acquisition.
Obviously, the Bucs can sell great weather and training facilities, no state income tax, and plenty of Super Bowl rings on the coaching staff. Joe also assumes the Bucs will pitch any potential cornerbacks or linebackers with the presence of four top draft picks on the young defensive line. And, of course, Team Schiano will talk all about character and the new "Buccaneer Way."
But what's interesting to Joe is that the Bucs no doubt will be selling the 10-6 record of 2010 and the Josh Freeman of 2010. Essentially pitching that the talent is already here and now the right coaching staff is in charge.
While many Bucs fans think 2010 was a mirage — Joe's not in that camp — top free agents will be asked to believe otherwise. And a strong case will be made.
Now, of course, Joe is simply performing logical speculation. But if this part of the sales pitch proves true, then one might have to wonder why the Bucs didn't go after top free agents last year on the heels of that 10-6 season. Was it overconfidence in the roster, or underconfidence in the coaching staff?