Barber Wondering "If I Fit In"
February 12th, 2012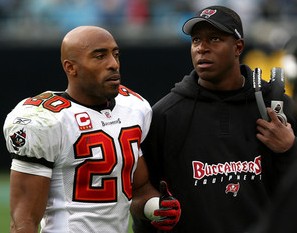 Why wouldn't Greg Schiano want Bucs icon Ronde Barber on his roster next season?
Joe can't answer that question. It seems like a no-brainer that Schiano, who says he craves competition in every drill, would want a versatile, solid cornerback like Barber on his team, a guy who doesn't miss practice. And Barber just happens to a future Hall of Famer.
That written, Barber says he doesn't know what he wants to do and he's going to wait and see "if I fit in," so he told Tampa Bay Times beat writer Stephen Holder last night at a local charity event.
Like most things in the NFL, Joe suspects a lot of Barber's decision will come down to money.
 And some of it might come down to whether Barber is willing to accept a lesser role. If the Bucs draft allegedly can't-miss cornerback Morris Claiborne and still have Aqib Talib on the roster, Barber's playing time would diminish.