Bucs Aren't That Far From Winners
January 4th, 2012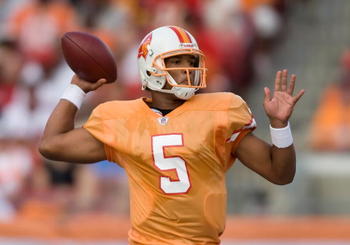 With no coaching staff in place, a 10-game losing streak to end last season in a grotesque manner, perhaps the worst linebacker play in the NFL, and maybe losing its two starting cornerbacks in 2012, it's difficult on face value to see the Bucs making the playoffs in the near future.
Don't count Don Banks along with the naysayers.
The former Bucs beat writer for the then-St. Petersburg Times has been a popular NFL columnist for Sports Illustrated for some time now. He recently typed a piece where he believes the Bucs and the Lambs are much easier franchises to turn into winners than what many suggest.
Spagnuolo and Morris won't reap the benefits, but an objective assessment shows the Rams and Bucs are in better position today than they were when they hired those two men in early 2009.

In the NFL, the teams without hope are the teams without a long-term answer at quarterback. On that front, the Bucs and Rams remain in decent shape. Tampa Bay's Josh Freeman and St. Louis' Sam Bradford both regressed this season and suffered setbacks in their development as first-round, franchise-type quarterbacks. Nothing came easily to either passer, and their first real blast of adversity in the NFL tested their wills and challenged their confidence levels.

But the things that ailed Freeman and Bradford are fixable, and their experiences this year were rather common for young quarterbacks who find themselves caught up in a season that spirals out of control. Yes, they struggled mightily at times, but that does not necessarily doom them to more of the same in the future.
Banks goes on to write that he believes the investments the Bucs have made on the defensive line should pay off and that will help turn the defense around quicker than most.
Banks has a point. But first thing first: Fix Freeman.