"Weak-Minded" Bucs Doomed Raheem
January 4th, 2012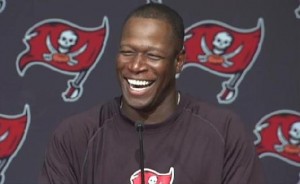 Apparently channeling years of training as a social worker, Bucs beat writer Stephen Holder says some young, key Buccaneers lacked the mental capacity to handle adversity last season.
Holder offered his take during a live chat today for his employer, TampaBay.com.
Comment From PherbPherb: What do you make of talking heads like Shaun King saying Raheem go screwed? Shouldn't it be obvious that his team quit on him and that's all on the head coach?

Stephen F. Holder: Yes, the team seemed to quit and it's his job to get thru to them. BUT, I think the makeup of the team is a reason they quit on him. In other words, you had SOME young and weak-minded players who didn't respond well when the pressure got turned up. Last year, there was no pressure and they were winning. Everyone gets lifted by the high tide, you know? But this year, things got sticky and guys didn't respond. A lot of those young guys had never been tested like that.
Joe interprets Holder's take as essentially blaming a poor screening process, aka rockstar general manager Mark Dominik, for leading to mental weaklings landing on Raheem's roster in key positions. And these softies caved under pressure.
Wow. Joe's heard it all now.
The Bucs routinely came out in games outschemed before the opening whistle, often defeated and deflated only minutes into the game. For Joe, that was a complete failure of coaching, from motivation to preparation.
Somehow, in 2010, young Buccaneers stepped up in key roles, routinely while trailing in pressure fourth-quarter situations. How many rookies made starts in 2010? Hats off to Raheem and his staff for that. But in 2011 the team was allegedly infested with weak-minded players?
Joe doesn't get why it's so hard to just call the last 10 games what they were: a collosal, historic failure by the coaching staff.