Productivity Up Across Tampa Bay
August 10th, 2011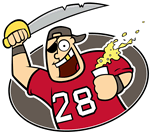 Wow!
Hallelujah!
Joe's back after losing JoeBucsFan.com this afternoon because of a technical situation beyond Joe's control. Many thousands of websites across the country were affected, and Joe was among those that encountered bad luck.
Joe's sorry to have forced his readers to sniff around the rest of the world for Bucs news for part of today. Joe hopes his absence made hearts grow fonder of Joe's brand of Bucs coverage.
Joe can only imagine how many local employers saw a renewed focus from some staff today. Glad to be back, and Joe's got some catching up to do through the night.