Not Sold On LeGarrette Blount
August 25th, 2011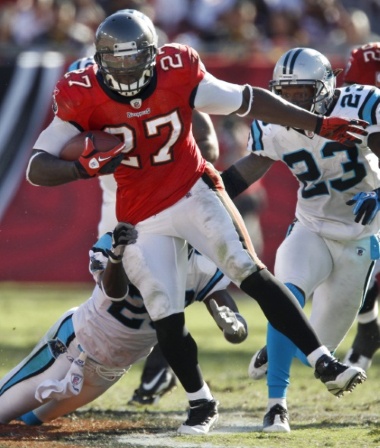 Even a guy walking around with a white cane could tell the impact that LeGarrette Blount had on the Bucs last season.
Connie Chung was depressed because the Bucs rushing attack was so impotent early in the season. Opposing defenses rarely concerned themselves with the Bucs running attack, instead schemed only to stop the pass.
The moment Blount started running wild on defenses and teams began to adjust to the run, that opened up passing lanes, and voila! Offense!
The Bucs win at Arizona was a perfect example of Blount's impact on the offense.
But Christopher Harris of BSPN isn't buying this. He is of the mind Blount is all hype and that if Blount was truly valuable, he'd be on the field on third downs.
It's not that I'm calling Blount a potential bust. I think he's got too much job security for that, and he doesn't strike me as an inordinate injury risk, jumping or no. I just don't see an excess of upside. For all the Buccaneers' beat reporters writing stories about Blount "looking good" catching the ball during training camp, the big man hasn't stayed on the field for third downs much at all this preseason, and Earnest Graham and/or Kregg Lumpkin look like the pass-catching backs in the Tampa offense. Blount caught all of five passes last season, and I didn't see any evidence in either of the Bucs' exhibition games to date that indicates he'll even threaten 20 grabs this year. And an offensive line that a few years ago seemed promising now just seems bleh. The tackles, Donald Penn and Jeremy Trueblood, got new contracts this summer but are at best average in my eyes. Davin Joseph got a huge extension at right guard but hasn't yet proved he's the mauler he was supposed to be when Tampa took him in the first round of the '06 draft. Center Jeff Faine is very strong when he's in there, but he's missed 12 games the past two seasons combined. It's not a bad group, but it's pretty average. I know much has been made of new offensive line coach (and former Vikings coach) Pat Morris, the subtle implication being that Adrian Peterson enjoyed running behind a Morris line, so maybe Blount suddenly has AP-like openings. But while Blount is surprisingly shifty for a guy his size, he doesn't have anything close to Peterson's long speed, nor, I would argue, does Tampa have any lineman who could match up with guys like Steve Hutchinson or Bryant McKinnie in their primes.
Later, Harris went on to claim Blount is the 20th-best running back in the league and Joe had to do a double-take. Ah, ha! Joe noticed that Harris qualified this as "fantasy back."
That explains it. You know, Joe reads feces like this and toward the end of the story he notices it's is about "fantasy" football, which just reinforces Joe's theory "fantasy" football is pure horsemanure.
Fantasy football — keyword, "fantasy" — is to real football like Rachel Watson is to Joe's bedroom.
Only in "fantasy" football would an alleged sober person suggest Blount is a low-rung NFL running back.