Disconnected Foster Makes An Impact
August 13th, 2011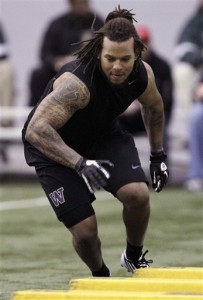 Raheem Morris is always saying his players must strive to play "fast, hard, smart, and consistent." On Friday in Kansas City, rookie middle linebacker Mason Foster didn't have to be as smart.
In a nod to Foster being greener than the honeydew Joe's enjoying with his eggs this morning, Raheem snatched the playcalling duties and the headset from Foster and gave them to Quincy Black during last night's game. Earlier in the week, and before that, Raheem — and Mark Dominik –had expressed confidence in Foster's ability to handle all the traditional duties of the mike linebacker.
Roy Cummings of TBO.com penned the explanation from Raheem:
"I thought about it after a while and decided to give the head set to Quincy because he's going to be out there on every snap," Morris said of Black, who plays middle linebacker in the Bucs' nickel defense.

"That takes something else off of Foster's plate, which allows him to play a little faster and that was awesome. It allowed him to be more explosive and play faster and just play on instinct instead of calling the defense."
Wise move by the head coach/defensive coordinator.
Without months of playbook study and OTAs, courtesy of the asinine lockout, there was ro reason to think a rookie would be ready to lead the defense after two weeks of practice. Foster must have felt like a huge leash was taken off his neck.
He responded with a fumble recovery and playing fast and physical along with the rest of the Bucs' first-team defense.
Former Buccaneer Dave Moore marveled on the team's radio network at the dimension Foster brings saying the rookie plays a style that's necessary for success in Raheem's defense. "He covers a lot of ground and he plays very physical," Moore said.
In all, Joe was pleasantly surprised by Foster. Despite being heralded as a superstar-in-waiting and anointed starter, the guy was still a late third-round pick in a draft class that wasn't considered exceptional. There's a lot to prove, and a lot of hope.