Is Bucs Attendance Getting To Raheem?
August 13th, 2011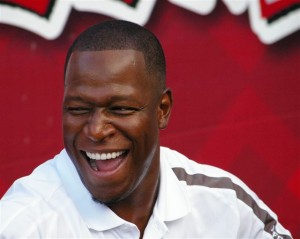 Last year when blackout talk was sadly popular, Raheem Morris routinely said he only was concerned about the fans in the stands supporting the Bucs. They were the greatest fans in the world, Raheem would say, and the head coach would express empathy for the economic forces at play keeping many fans from buying tickets. 
You get the idea.
But in 2011, it seems the tone of the head coach has changed. During a radio interview prior to the Bucs' night practice last Saturday, Raheem talked about how he wanted to see a full house in the building, stressing that it was a free event and there were no excuses not to come out and enjoy the team, the fan-friendly practice and the fireworks.
Joe made a mental note but didn't write about that comment at the time. It seemed like it could be a one-off take. Of course, the night practice was a popular event, but the stadium was nowhere near half full.
Last night, speaking on the Buccaneers Radio Network following the Bucs' blowout preseason win in Kansas City, T.J. Rives interviewed the head coach and closed the chat by saying he would see the coach at home against New England next week. Raheem responded by saying he'd see him in "a packed stadium." (This just in. The Bucs will be nowhere near sold out on Thursday.)
To Joe, it seems like the head coach is sending a message to the community, — show up and support this damn youngry, 10-6 team — and Joe thinks this is a bad idea. First, Raheem's only job is to win football games, so his time is best spent worried about stuffing the run. Second, it's a battle he can't win. Fans will do what fans will do, for whatever reason they feel like doing it.
If Raheem escalates the attendance talk, it will only backfire on him. The media will ask him more attendance questions, and the fire will be hard to put out.
Joe fears Raheem is taking a cue from one of his mentors and best buddies, Rays manager Joe Maddon, who loves to take measured pulic shots at the Rays support at the gate and the subpar quality of Tropicana Field.
At least Maddon has two division titles under his belt and ownership that likely cheers every time he rips the stadium and support. Raheem has nothing of the sort in his corner, Joe's quite sure.
Joe's calling attention to this simply because he wants Raheem to ditch the rhetoric before it takes away from his exciting young team. Another few one-liners and the wrong media types will take notice.