Bucs Slash Prices On Soft Drinks, Food For Opener
August 20th, 2011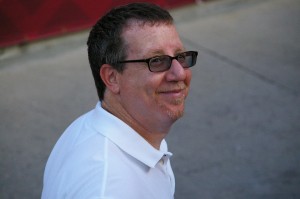 The massive Fred Flintstone-like turkey drumstick for sale on the 300 level of the C.I.T.S. that Joe loves so much will be half price on opening day, along with soft drinks and all the Bucs' gameday grub, so reports the Facebook page of WDAE-AM 620, the Buccaneers' flagship station.
In a nod to fans, or perhaps an attempt to bust the Bucs' heinous blackout streak, Team Glazer is shaving profits from the Bucs-Lions game on Sept. 11.
Joe thinks this is pretty cool.
While gameday drunks will still be soaked for overpriced warm beer, the move will represent a significant savings for a lot of folks. Joe's still pegging opening day attendance about 12,000 shy of a sellout, but perhaps this could help move the needle a bit.
Update: 11:19 a.m. – It seems the Bucs' half-off gesture is in response to screwups on Thursday night. From a Buccaneers letter to season ticket holders: "We would like to apologize to all fans who attended Thursday's game for the concession service issues throughout the stadium.  It is our commitment to ensure that our fans receive a first class experience at all Buccaneers games.  Because of this, we will be offering 50% off all food and non-alcoholic beverages at our home opener on September 11."
Clarification: Just so everyone is clear, this SNAFU Thursday night at the concession stands was due to issues with the vendor, Levy Restaurants, NOT the Buccaneers. But Team Glazer is making sure things are right with the fans. Joe doffs his cap.
As Joe's good friend Justin Pawlowski just said on WDAE-AM 620, how cool is it that on a broiling 1 p.m. kickoff, you can get fluids at half-price?