The Best Buccaneer… Warrick Dunn?
July 24th, 2011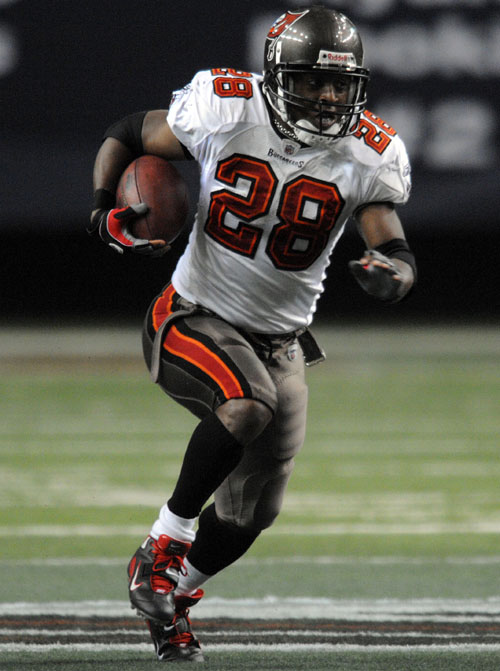 Since the Bucs initiated the Ring of Honor, a lot of fans have been debating who the greatest Bucs player is.
Some say Lee Roy Selmon, and Joe would have no argument there. He made the Hall of Fame as a defensive end playing in a three-man front of all things.
Others suggest the best Buccaneer of all time is Derrick Brooks, and Joe would have a difficult time arguing that as well. Brooks was a groundbreaking linebacker in a many ways and he was on NFL Network's top 100 players of all time (so was Selmon).
But Joe would have a difficult time suggesting running back Warrick Dunn would be the greatest Bucs player of all time, but that seems to be what FoxSports.com seems to suggest. In a poll asking Bucs fans to pick the greatest player in franchise history, it lists Dunn among the candidates.
The Bucs' dominance of the late 1990s and early 2000s was not solely because of defense. Teaming with fullback Mike Alstott, the diminutive Dunn was the speed in one of the NFL's best backfields in the late '90s. He is third on the team's career rushing yards list and also third all-time in receptions for the Bucs. But Dunn's impact went beyond the stat sheet. Forced to be the family provider at age 18 after his mother's murder, Dunn brought his sense of loyalty and duty to the Bucs' locker room and the Tampa Bay community, becoming a favored son of the community (having played college at Florida State). His greatness both on the field and in the community led him to win the Offensive Rookie of the Year and Walter Payton Man of the Year awards.
If Joe was going to pick the best human being of any Bucs player, Dunn may just run away with the vote. Just the work and money and time he has devoted to the Tampa Bay area helping single-moms and their families is damned near enough for the Pope to begin the process for nominating Dunn as a saint.
As good of a running back as Dunn was, Joe would have a very difficult time placing him on a higher rung than Selmon or Brooks.