The Poz Couldn't Replace Barrett Ruud
June 15th, 2011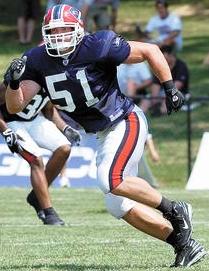 As Joe has mentioned more than a few times, there is perhaps no more polarizing player on the Bucs roster than linebacker Barrett Ruud. Many Bucs fans crumble their empty beer cans and throw them at their dogs over frustration that Barrett Ruud is not Jack Lambert.
In short, Bucs fans want Ruud to play in a way that his coaches do not.
The subject of Barrett Ruud came up yesterday when Joe was listening to "Movin' the Chains" heard exclusively on SiriusXM NFL Radio co-hosted by Pat Kirwan and Tim Ryan.
Kirwan brought up who the Giants would go for at linebacker: Barrett Ruud or Paul Posluszny. Kirwan noted that Ruud was a better fit for the Giants and Ryan was torn, but he finally admitted he likely would have Ruud as a Giants linebacker.
Now months ago, Joe thought about The Poz playing with the Bucs and quickly dismissed it. Not a good fit.
Since Joe didn't go to a BCS conference school (Joe regrets not going to Illinois when he had the chance, only because Joe wishes he had a big time conference school to call his own when swilling beers on fall Saturday afternoons. Now, Joe is not ashamed where he graduated from, in particular Joe caught a current-day NFL coach trying to steal a keg from him), Joe had to pick and choose schools from various conferences to sort of call his own and watch and follow. Penn State is Joe's Big Ten school of choice.
The Poz is Joe's favorite college linebacker. Dude personifies a Penn State linebacker: strong, physical, mean, smart, ballhawk. He's a beast! In three NFL seasons The Poz has damned near 400 tackles. Impressive.
But The Poz could not replace Ruud. The Poz has hasn't played in a 43 defense since his breakout junior season at Happy Valley. His senior season, to take advantage of so many solid linebackers, Penn State defensive coordinator Scrap Bradley used a four-linebacker set.
So many Ruud supporters — Kirwan among them — stress that Ruud's greatest attribute is calling plays and getting players in the proper position to make plays. Given how young the Bucs defense is, this is not a lost trait.
Given the fact The Poz hasn't played in a 43 defense since Bobby Bowden was relevant, some five years ago, Joe cannot see how The Poz could pull off what Ruud pulled off in being the leader of the Bucs defense. He hasn't played in a Cover-2 defense in six years and even then, Penn State didn't play much Cover-2.
Selfishly, emotionally, Joe would love to see Posluszny play for the Bucs.
Thinking with a clear head, Joe knows The Poz couldn't replace Ruud.