Marvin Lewis Likes Raheem
May 31st, 2011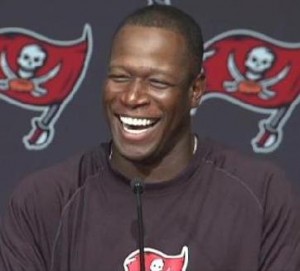 Last year when Bucs rock star general manager Mark Dominik coughed up extra cash for wide receiver Dezmon Briscoe to pry him off of Cincinnati's practice squad, always angry Marvin Lewis lashed out at Dominik and the Bucs for what he perceived as an underhanded move.
In reality, Lewis needed to look no further than that NFL version of Fred Mertz, Lewis' boss who may be the cheapest owner in sports.
Speaking to Cincinnati.com this weekend, Bucs coach Raheem Morris was golfing with Lewis and waved off any suggestion that Lewis doesn't like Morris.
At last week's Marvin Lewis Golf Classic, Morris discounted the notion of a feud and said that both get along well.

"That's business, this is about the community and the bigger picture," Morris said. "It's not about whether you have a disagreement on the field or whether I like him on game day.

"I wanted to come in for Marvin and be supportive of him because he's always been supportive of me."
Well that's nice to read but Joe is too much of a cynic. Could it be that Lewis, once one of the NFL's best defensive assistants, sees that Mertz could cut him loose after this year and then Lewis could land in Tampa to work with Morris?