Josh Freeman Just Cares About Football
May 10th, 2011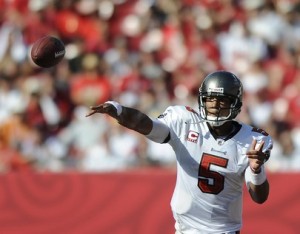 A couple of interesting items crossed Joe's keyboard in recent days and, in Joe's eyes, paints a largely impressive picture of Bucs quarterback Josh Freeman.
First, Joe got into a discussion about Freeman working out privately with skill position players both at USF and at the IMG headquarters in Bradenton. Unlike some NFC South quarterbacks, Freeman did not climb atop the Sunshine Skyway Bridge and yell to the hundreds of thousands of Bucs fans where and when he would be working out.
Then yesterday Joe discussed a tidbit in Peter King's MMQB column where Mark Sanchize brought two dozen players to work out with him before Jets coaches where Freeman brought just two.
What does this tell you about Freeman?
It tells Joe that he is single-minded. Freeman just cares about football.
Yeah, sure Freeman could invite the enter Tampa Bay area to watch him and other Bucs practice at USF or a high school or a park. There is a reason why the Bucs close many practices and it's not because they are paranoid of survellience from other NFL squads. No, practices are closed to the public because the team can get a lot of work in without distractions.
Sure, Freeman could score brownie points by having a public workout, but it seems Freeman is serious about these workouts and doesn't want to waste his time. If he and his teammates are going to work out, it's for and with a purpose, not a public relations stunt.