Chatter That Rams Want Cadillac
May 24th, 2011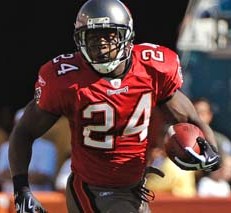 Seems that talk is seeping out of St. Louis that the suits and powers that be with the Rams covet Bucs running back Cadillac Williams.
Of course, this is all just chatter and what we are left with as news in the dearth of information during this asinine lockout orchestrated by NFL hatchetman Roger Goodell.
The Rams are looking for protection for Stephen Jackson, who by NFL running back standards is middle-aged. The Rams believe Williams and his blocking and running off the bench is just such the protection Jackson needs, so reports ProFootballWeekly.com.
Chargers RB Darren Sproles remains the most frequently mentioned free-agent possibility in St. Louis as a change-of-pace backup to Rams RB Steven Jackson. But another attractive option generating some behind-the-scenes buzz at Rams Park is Cadillac Williams, who took on a new role this past season in Tampa Bay as an effective backup behind LeGarrette Blount. "Cadillac would be a perfect fit behind Jackson," one team insider said. "I hear he had no problem accepting a part-time role in Tampa. The one thing you have to wonder about, though, is whether the Bucs would really be willing to let a guy like that leave."
One of the reasons Williams was so valuable for the Bucs is that stud LeGarrette Blount isn't yet proficient in blocking, especially on blitzes. Cadillac excels in that area and is a very, very important element in keeping Josh Freeman's jersey clean.
Many NFL insiders believe if Barrett Ruud walks, the defense will wilt. Joe believes offensively, that could happen without Cadillac on the roster.