Dominik Says London Helps Team Grow
April 21st, 2011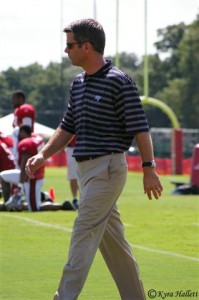 In one of the more interesting takes from his pre-draft news conference today aired on the Bucs official website, rock star general manager Mark Dominik said he was happy when he first learned the Bucs would play another home game in London this year because it's a good growth opportunity for his young team.
"It has a playoff atmosphere mentality over there," Dominik said of playing in London. "And I think it's good for our young football team anytime you can taste that. It's important how it helps our team grow."
Joe imagines the circus-like loud feel at Wembley Stadium is very playoff-like in the hype preceding the game and right after kickoff, but during the game? Joe's skeptical.
Playing a home game against the Bears with thousands of screaming Bears fans in the house would seem to be the playoff-like atmosphere the Bucs need to get used to. If the Bucs indeed win the NFC South, there's a strong likelihood they'll be playing at home in front of a packed house with plenty of visiting team fans.
But the Bucs have a winning record since returning from England in 2009 (13-12), so maybe there is a something uplifting about playing over there.