All Things Outside Linebackers
April 20th, 2011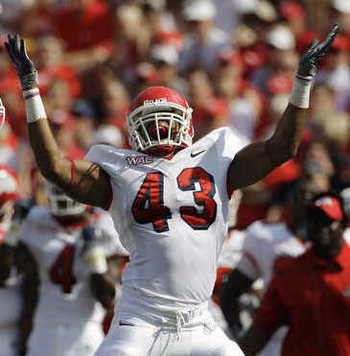 Last Saturday on WDAE-AM 620, Bucs rockstar general manager Mark Dominik said he reads the stellar draft analysis of Justin "The Commish" Pawlowski.
So don't you think you should, too?
As part of the exclusive unmatched draft coverage on JoeBucsFan.com, today The Commish fires off his look at the top 10 outside linebackers in the 2011 draft. Surely the Bucs are salivating over a few of these guys, unless you really believe Quincy Black is the future.
Enjoy. And brace yourself, The Commish is about to unleash a final eight days of draft coverage here that will blow your mind.
Outside Linebackers:
By JUSTIN PAWLOWSKI
1. Von Miller – Texas A&M
6'3'' – 246 lbs – 4.53
Top 5
Why The Commish would take him: Miller has gained the reputation as the draft's premiere pass rusher this year. He is an ideal fit in a 3-4 defense, but I think he'd be just fine in coverage in a 4-3 defense as well. His character and leadership skills are outstanding.  He doesn't just have experience against top competition, but he dominated that competition as well.
Why The Commish would stay away: If there is a negative to Miller, it's that he can play too aggressive at times and run himself right out of a play. He might be very susceptible to playaction. Miller also does not have elite size, so it's possible for him to be engulfed by bigger offensive linemen.
Commish's Final Say: There are plenty of teams clamoring for Miller. If he somehow gets by the Bills with the 3rd pick, expect the Bengals to get bombarded with calls from teams looking to trade up and grab Miller before the Cardinals.
Comparison: Joey Porter – Arizona Cardinals
2. Akeem Ayers – UCLA
6'3'' – 254 lbs – 4.69
1st Round
Why The Commish would take him: I think Ayers is a player with great natural ability and room to grow. He showed off nice blitzing skills at UCLA with his use of his size and his speed to his advantage. Different from some converted defensive ends, Ayers is very fluid in coverage and a natural linebacker.
Why The Commish would stay away: Despite his size, Ayers biggest weakness is his lack of strength. He needs to get stronger to be effective in the NFL. With this lack of strength, Ayers struggles to get off blocks once offensive linemen are engaged.
Commish's Final Say: In a weak pure linebacker class, Ayers has plenty of natural ability to be worthy of a 1st round selection. I'd like him either outside in a 4-3 or 3-4 defense, or I think he could play inside as well. He might be a bit of a reach at 18, but I think Ayers would be a great pick for the Chargers as they are desperate for linebackers.
Comparison: Shaun Phillips – San Diego Chargers
3. Justin Houston – Georgia
6'3'' – 270 lbs – 4.68
1st Round
Why The Commish would take him: Houston's first step and speed off the edge is the most impressive attribute about him. Houston also has very good strength, which he displayed at the combine, and which translates to the field. Houston was very productive the last couple years in a very tough conference.
Why The Commish would stay away: When I watch Houston, I only see him using one move, and that is speed off the edge. He does not have any counter moves and never goes inside on an offensive tackle. That might work in college, but that will not work in the pros.  Unless he gets good coaching and learns more than one pass rush move, Houston won't be much of a pass rusher in the NFL.
Commish's Final Say: I want to give Houston the benefit of the doubt and say that he'll get good coaching and develop some other pass rush moves.  Right now, he looks a lot like Gaines Adams did coming out of college. Now, Gaines Adams never had the strength that Houston already has, which is why I think Houston should be able to learn a few counter moves that will incorporate his strength a little more.  If he does that, I could see Houston turning into a player like Terrell Suggs.
Comparison:  Terrell Suggs – Baltimore Ravens
4. Brooks Reed – Arizona
6'2'' – 263 lbs – 4.68
1st/2nd Round
Why The Commish would take him: Reed is one of those players teams can rely on. He is a good character, high motor, and hard working leader. Reed is a smart player who is active on every single play. He already times really well, but he plays even faster than that.
Why The Commish would stay away: I have to wonder if Reed is only getting the love he has gotten because of his resemblance to Clay Matthews Jr. I would never draft a player solely because he looks like another player. Reed was not overly productive at Arizona either. I saw many times where Reed struggled to get off blocks of bigger offensive linemen.
Commish's Final Say: Reed's stock skyrocketed after he had one of the fastest 10-yard splits at the combine. It was a similar statistic that Clay Matthews was famous for a couple years back. Since Reed already was being compared to Matthews, it was natural that the 1st round started being mentioned with his name.
Comparison:   Clay Matthews – Green Bay Packers
5. Bruce Carter – North Carolina
6'2'' – 241 lbs – DNP
2nd Round
Why The Commish would take him: Carter might be the best fit of any linebacker in this draft for a 4-3 defense. He is great in pursuit, excellent in space, and outstanding in pass coverage. Carter has great speed, but his strength is very underrated. Carter gained the reputation of having an excellent work ethic and attitude at North Carolina.
Why The Commish would stay away: Health is the major concern with Carter. He dealt with all kind of leg injuries from knee, ankle, thigh, and hamstring injuries that he played through in 2010. He finally tore his ACL in his left knee which has prohibited him from working out before the draft and also has teams wondering if he'll be ready for the 2011 season.
Commish's Final Say: Carters probably a 1st round pick if I wasn't for is injuries and, in particular, his ACL tear. If he can get healthy, Carter could be one of the big steals in this draft.  With that said, he's still a big risk as well.
Comparison:  Keith Rivers – Cincinnati Bengals
6. Mason Foster – Washington
6'1'' – 245 lbs – 4.75
2nd/3rd Round
Why The Commish would take him: Foster was known as the "heart and soul" of Washington's defense. He's as good a leader with as strong a work ethic as you'll find.  Versatility is also big with Foster as he has experience at weakside, strongside, and middle linebacker. Foster also likes to wear his emotions on his sleeve as he is extremely passionate and fiery on the field.
Why The Commish would stay away: Foster isn't the flashiest player. He has a distinct need to get stronger and needs to do a better job of shedding blockers.
Commish's Final Say: I had to write something for why I wouldn't take Foster, but the truth is that he's the type of player I want on my team. I love having fiery leaders at the linebacker position, and I think that's just what the Bucs need.  I think Foster would be a great fit in the 2nd round for the Bucs.
Comparison: Mike Peterson – Atlanta Falcons
 7. Sam Acho – Texas
6'2'' – 262 lbs – 4.68
2nd/3rd Round
Why The Commish would take him: Acho is an effort pass rusher who plays with great leverage and discipline. Acho also comes from a good group of hybrid linebackers like Brian Orakpo and Sergio Kindle, so the hope would be that he would contribute like Orakpo has, since Kindle dealt with injuries last year. Unlike Kindle, Acho has proven to be very durable and play through pain when needed.
Why The Commish would stay away: I think Acho needs to get stronger if he's going to be competing with NFL offensive linemen. Acho tends to be engulfed by massive offensive linemen. As a converted defensive end, I also wonder how Acho will do in space and in coverage.
Commish's Final Say: Acho comes from a good group of hybrids from Texas. I'm not sure he's as talented as Orakpo or Kindle, but Acho surely plays with effort. I'm not sure I'd be willing to invest a 2nd round pick in Acho, but an effort rusher like him might definitely be worth a 3rd round selection.
Comparison:  LaMarr Woodley – Pittsburgh Steelers
8. Dontay Moch – Nevada
6'1'' – 248 lbs – 4.44
2nd/3rd Round
Why The Commish would take him: Moch has become a cult legend in Nevada with whispers of a 4.2 40-yard dash while he was a player there. He didn't run that fast at the combine, but he was still the fastest linebacker in this year's draft. If you can't teach speed and speed kills, then Moch should be very attractive to a lot of teams.  Moch also lives in opposing backfields as he had more than 20 tackles for a loss in the last two years and 17 tackles for a loss in 2008.
Why The Commish would stay away: With how fast Moch is, he struggles with agility and is very questionable as he moves back into coverage. Moch was a defensive end at Nevada, so there are plenty of questions as he'll transition back to linebacker in the NFL.
Commish's Final Say: I think Moch's natural ability is extremely intriguing. If Moch gets in a system with good coaching, he has the ability to be a dominant force.  However, I do worry about the part of his game that requires more quickness and agility than speed.
Comparison: Larry English – San Diego Chargers
9. Chris Carter – Fresno St.
6'1'' – 248 lbs – 4.62
3rd Round
Why The Commish would take him:  Carter's biggest strength is quickness off the ball. As a defensive end at Fresno St, Carter was quick off the line, but also possesses some great straight line speed. Carter is an explosive athlete with some good power as well. He should excel rushing the passer from a 2-point stance.
Why The Commish would stay away: As a former defensive end, there are questions about his coverage ability. Carter does not have the ideal size to match up with bigger offensive linemen in the NFL.
Commish's Final Say: The Bucs brought Chris Carter in for a workout and rightfully so. Carter is a very explosive athlete who should be very solid as an outside linebacker in the NFL. His strength will be blitzing off the edge.
Comparison:   Quincy Black – Tampa Bay Buccaneers
10. KJ Wright – Mississippi St.
6'3'' – 246 lbs – 4.75
3rd/4th Round
Why The Commish would take him: The first thing that stands out to me with Wright is his durability. He finished his collegiate career with 47 consecutive starts.  Wright also has a great combination of size and speed. He is a hard worker with a motor that never stops.
Why The Commish would stay away: Wright just didn't make many impact plays for Mississippi St. He struggles to shed blockers and plays way too tall at times.
Commish's Final Say: Wright's combination of size and speed should make him pretty attractive in the middle rounds. I do question a player with those attributes not being able to make more impact plays in college.
Comparison: Aaron Maybin – Buffalo Bills